Chiropractic Therapy
The first step to a healthy, active lifestyle is a properly functioning spine. Your spinal column is what allows your body to move, twist and bend. It also helps to protect the delicate central nervous system that controls and coordinates muscles, tissue and organs. Your spine is made up of 24 independent vertebrae, and when two or more of these vertebrae aren't functioning properly it can cause you to experience pain, discomfort, decreased mobility or other unpleasant symptoms.
Practitioners take a manual approach, providing diagnosis, treatment and preventive care for disorders related to the spine, pelvis, nervous system and joints. They perform a series of adjustments to realign the body so that it can properly heal itself, freeing up the immune system to better maintain health. Chiropractors utilize a combination of treatments based on the specific needs of the patient.
Chiropractic care benefits everyone from infants to seniors.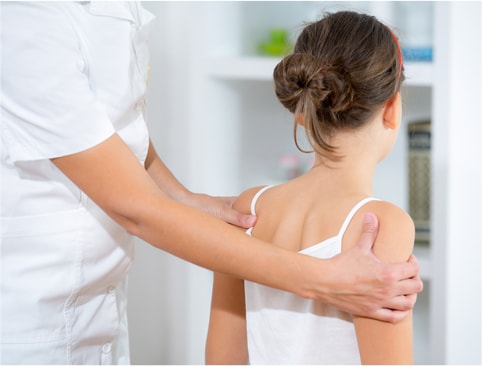 General Facts about Chiropractic Therapy:
4.5 million Canadians visit a chiropractor each year
Primary goal is to decrease pain and restore function by correcting areas of reduced movement in the joints and surrounding tissues
Chiropractic therapy has been proven to enhance a patient's ability to think, move and perform
An adjustment (spinal manipulative therapy) is the most common form of treatment used by chiropractors in clinical practice
Chiropractors make evidence-based recommendations for your treatment/management plan based on your specific diagnosis
Doctors of Chiropractic (DCs) are the highest-rated health care practitioners for lower-back pain treatments
Doctors of Chiropractic (DCs) provide a patient-centred approach to health care marked by top-quality interaction and communication
Benefits of Chiropractic Therapy:
Improved joint motion and coordination
Improved nerve communication in the body
Improved physical function and performance
Improved posture
Relief from back and neck pain
Relief from leg, knee, foot and ankle pain
Relief from arm, wrist, shoulder or elbow pain
Relief from stress and tension disorders
Relief from joint discomfort
Relief from bursitis
Relief from arthritis
Relief from chronic injuries
Areas of Chiropractic Therapy:
Sciatica treatment
Lower-back pain and neck pain
Headaches (tension and migraine)
Colic and ear infections
Neurological conditions
Blood pressure
Surgery prevention
Frozen shoulder
Scoliosis
Athletic performance
Education:
Basic training in the biological and health sciences, including anatomy, physiology, histology, biochemistry, clinical and radiological diagnosis
4,200 hours of training in core competencies of MSK conditions
Specialized training in the chiropractic discipline, including theoretical studies, practice, diagnosis and application
Extensive clinical training
Upon graduation from an accredited program, candidates must pass the written and practical exams offered by the Canadian Chiropractic Examining Board (CCEB)

We can help
The following specialists can help you with Chiropractic Therapy
Contact us for more information or book an appointment
Contact Us